2011 Highlights in Italy
back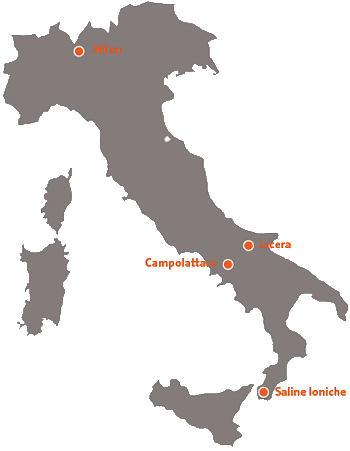 Highlights: Italy
In

Milan

, Repower launches the "Verde Dentro" product which, besides certified green power, also includes electric mobility and an energy-efficiency tool. With these efforts, Repower proves that it is an innovative pioneer in the Italian market for green power.
The

Saline Joniche

project is further developed in collaboration with the partners and is considered an important contribution to reducing Italy's dependence on gas for the generation of electricity.
The concession application and documents for the environmental impact assessment of the planned 540 MW pumped storage power plant in

Campolattaro

are submitted. Repower is pursuing this power plant project with the goal of gaining access to generating capacities which can be regulated and flexibly deployed, and in this way make a contribution to grid stability.
In

Lucera

, construction begins on a 26 MW wind farm from Repower which is scheduled to be connected to the grid as early as 2012.
After establishing a cooperation agreement with Mitsubishi, Repower enters into a partnership with Oxygen (a motor-scooter manufacturer) to promote e-mobility.