Letter to Shareholders
Letter to shareholders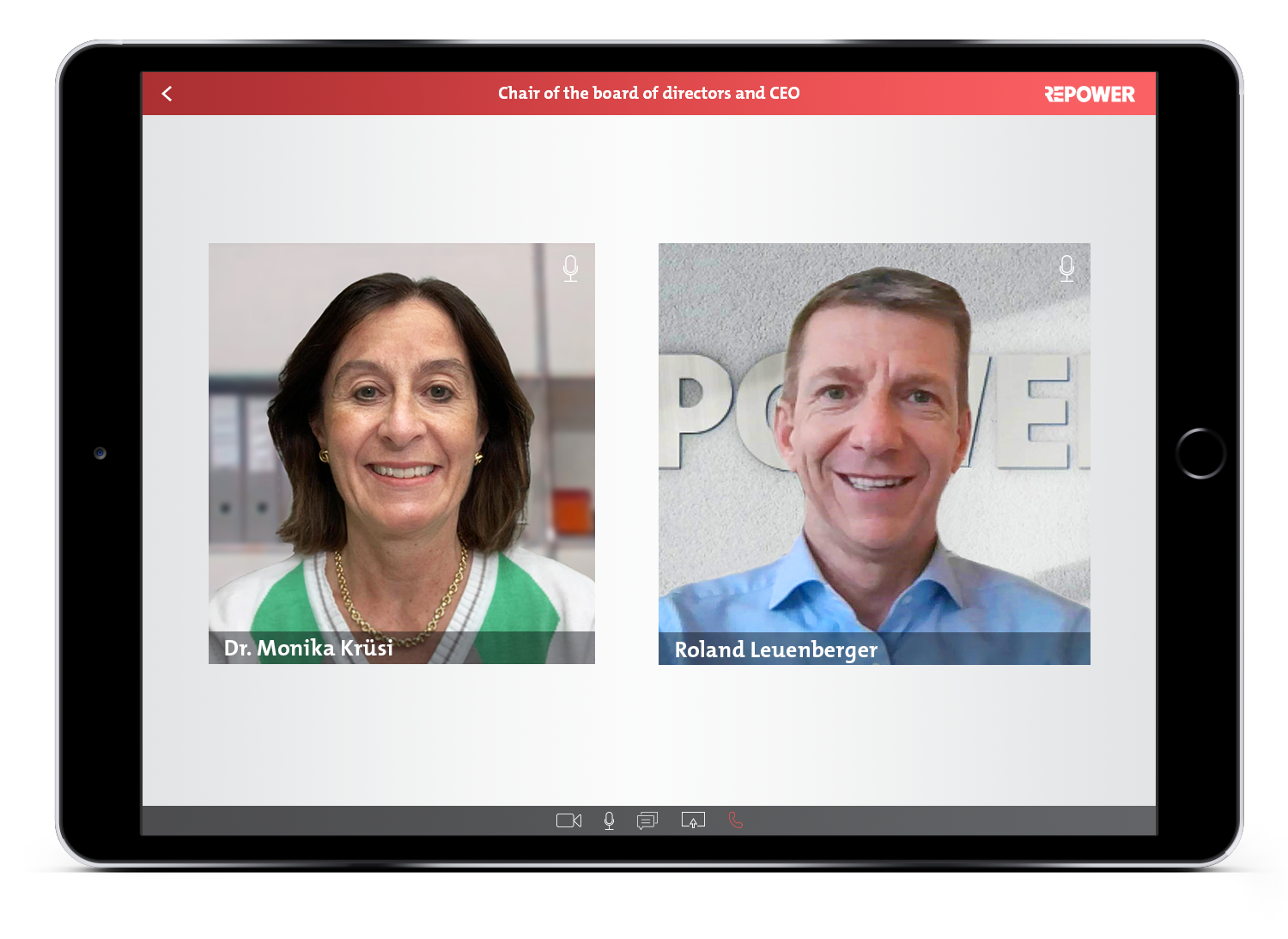 Dear Shareholders
Ladies and Gentlemen

In 2020 we once again made progress in our efforts to reinforce Repower's position as a market-driven, innovative energy company. Even in these times of pandemic, Repower can look back on a successful year on an operational level. The Repower Group generated EBIT of CHF 76.9 million. Particularly worthy of mention are the good results in Italy. The Teverola combined-cycle gas turbine plant was in healthy demand on the balancing energy market and was very profitable, despite three months of downtime. Trading income also developed positively, and earnings in grid and basic supply were stable. Repower's strategy, based on a diversified business model, again paid off in the year under review.
2,951 million kilowatt hours produced
Repower's own production (including interests) totalled 2,951 million kilowatt hours in the year under review, an overall decline of 14 per cent versus the previous year. This fall was primarily due to a break in production at Teverola necessary because of unscheduled repair work. Volumes of electricity generated at the wind farms in Italy were also below average owing to unfavourable weather conditions. Hydropower generated by Repower's own plants came in around 10 per cent higher than the long-term average. Above-average precipitation in June, August and October coupled with regular snow melting boosted the generation of hydropower in the year under review (you will find detailed power generation figures here).
Last year Repower also continued to actively pursue its strategy in terms of renewable energy, again expanding its portfolio. In Germany we enhanced our wind generation capacity with the purchase of a new wind farm; in Switzerland we put the biggest solar installation in the Engadine into operation; and in Italy we also made important acquisitions and investments in wind and solar power.
Important acquisitions and investments in wind and solar power
Having hit a low in spring owing to the coronavirus, electricity prices had recovered strongly by the end of the year. Thanks to our hedging strategy, lower delivery prices could be well absorbed and had only a limited impact on our trading income. Otherwise trading profited from the high level of price volatility on the forward markets. The Trading Division's contribution to earnings was significantly larger than expected.
Heavy investment in the power grid
In its capacity as the biggest grid operator in Canton Graubünden, Repower again invested around CHF 27 million in its electricity grid. Distributed energy poses major problems in terms of grid availability and stability. To carry out the necessary conversion work required as cost-efficiently as possible, Repower is also systematically driving the digitalisation of its grid infrastructure. In this context we are particularly pleased by progress in developing the SMARTPOWER smart meter, which has successfully completed the lab testing phase and will soon be implemented on a broad basis.
SMARTPOWER is a product from EVUlution AG, newly established in 2020. The new company is a result of Repower's partner strategy. It involves companies operating in energy supply and services that pursue the common goal of developing and marketing innovative products and services for energy utilities. By joining forces to bundle the expertise of Repower and six other companies, EVUlution AG can respond concertedly to the new and increasingly complex needs of the market.
A powerful signal and a commitment to Graubünden hydropower

Major investment in hydropower
Repower was also able to reach its targets as a provider of services to third parties. Despite the coronavirus, the first of two substations in Mendrisio built on behalf of AIM (Aziende Industriali Mendrisio) was handed over on schedule. In summer 2020 the biggest investment in modernisation in Repower's history kicked off. Total investment of CHF 125 million sends out a powerful signal and indicates the company's commitment to Graubünden hydropower. This key project will tie up a large part of our technical resources in the years to come.
Naturally Covid-19 also affected us, and a number of business areas suffered as a result. The sales business in Italy, where many small and medium-sized businesses shut down because of the pandemic, slowed tangibly during the first wave of infection. In this situation our investments in credit checks and our network of sales consultants paid off. Thanks to these measures, the current figures for the sales business in Italy point to a sustained positive development, already giving us renewed grounds for optimism.
Repower remains able to act even in times of crisis thanks to ample liquidity
All in all Repower has managed the crisis well so far. The diversity of its business activities lends the company stability, and thanks to prudent financial management geared to high levels of liquidity Repower remains agile and able to act even in times of crisis.
Dividend
Given the good operating results for the year, the strong capital structure and healthy liquidity, the board of directors moves that the annual general meeting of 19 May 2021 approve a dividend of CHF 3.00 per share.
Outlook
For 2021 we expect to see an improvement in the economic situation in Switzerland and Italy. This growth should particularly benefit the sales business in Italy. Thanks to the Teverola combined cycle gas turbine plant, last year Repower was again able to make a major contribution to grid stability in the Italian Centro Sud electricity zone. However, given the introduction of a capacity market for balancing energy, Teverola's contribution to financial earnings cannot be taken completely for granted in the years to come.
Owing to the modernisation of Robbia power plant, we anticipate lower volumes of electricity generated in the current year. However, with investment of around CHF 80 million planned in 2021, the Service Provision Division will emerge stronger in the long term. Thanks to new investment, the Italian renewable energy business will continue to grow.
The Market Switzerland Division has set itself ambitious goals for 2021. With PLUG'N ROLL, Repower operates in a competitive market with great growth potential. With major contracts recently acquired, we are confident that PLUG'N ROLL is on the right track and will continue to grow.
We would like to thank our partners for the trusting working relationship and our employees for their untiring efforts. Thanks to their flexibility, discipline and willingness to take personal responsibility, we were able to achieve a great deal even in a year marked by the pandemic. Our heartfelt thanks also go to you, our shareholders, for the trust you place in us and your loyalty to our company.

Dr Monika Krüsi
Chair of the board of directors

Roland Leuenberger
CEO