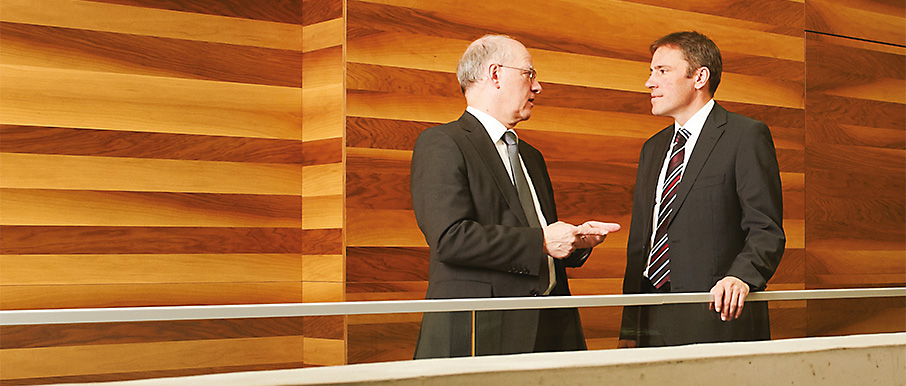 Chairman of the Board of Directors Dr Eduard Rikli (left) and CEO Kurt Bobst:
"Repower's business has been hit hard by the currency situation and extremely low prices. One of the ways we're responding to these challenges is by strengthening our service business."
Foreword from the Chairman of the Board of Directors and CEO
In the first half of 2015 Repower's group results were hit by the EUR/CHF exchange rate, impairment on generation assets and persistently low market prices. The group is endeavouring to reduce its dependence on the absolute price of electricity by further building its service and sales business.
Operating environment and results
The 2015 financial year began with the Swiss National Bank's decision to remove the 1.20 floor on the EUR/CHF exchange rate. The subsequent hardening of the franc has posed an enormous challenge for the Swiss export industry. Repower, which generates a large part of its revenues in euros but incurs a substantial portion of its costs in Swiss francs, has also felt the effects of this.
Although the possibility of stepping up the promotion of hydropower is being discussed at the political level, many important questions still remain open, and a stable political and regulatory framework is still lacking.
In the first six months of 2015 the Repower Group generated total operating revenue of CHF 922 million (down 23 per cent versus the first half of 2014). Operating income (EBIT) was down CHF 34 million, substantially lower than in the prior-year period. The result was a net loss of CHF 108 million. One-time effects totalling CHF -62 million from the removal of the 1.20 floor on the EUR/CHF exchange rate were a key factor in this result. Repower also took impairment charges totalling CHF 39 million on hydropower generation assets in Switzerland and the Teverola combined-cycle gas turbine plant in Italy. Added to this were additional provisions of CHF 3 million for long-term agreements. These were necessitated by a current market environment where market prices remain at very low levels – a situation that looks set to continue for some time.
Prices of Repower shares and participation certificates declined in the first half of 2015, reflecting the challenging market situation.
Key events
To secure long-term financing and safeguard its euro exposure, in March Repower placed a registered bond issue totalling EUR 35 million in the European market. Repower had already placed a EUR 80 million registered bond issue in summer 2014.
In May Repower sold its combined-cycle gas turbine project in Leverkusen to STEAG GmbH. In July the company will also complete its withdrawal from the retail sales business in Germany by selling its customer portfolio to Enovos.
Since the beginning of the year Repower has also offered a green power product in Romania: "Naturepower" is 100 per cent renewable and TÜV Rheinland-certified. In Italy, Repower launched a new offering for large customers called BIG, plus VAMPA, a thermal imaging service enabling faults in electrical equipment to be identified. A restructuring of the Italian sales network has made Repower's customer advisory services even more efficient.
In Switzerland, Repower has joined forces with Axpo and City of Zurich electricity utility ewz to create a grid alliance: the three companies have connected their high-voltage grids in northern and central Graubünden to generate synergy in an effort to enhance the grid and increase the security of supply. Repower also successfully put into operation the asset optimisation tool it developed on behalf of the Swiss Federal Railways (SBB). It has also launched innovative products and services related to electric transportation. In addition to this, the group has further expanded its partnership portfolio. This has included the acquisition of a new shareholder for Repartner Produktions AG.
At the beginning of July Repower will be completing the previously announced sale of an interest in Swissgrid AG comprising shares in Swissgrid and a convertible loan granted to Swissgrid AG. These transactions will generate proceeds of around CHF 59 million for Repower.
Structural measures
Repower continues to systematically pursue its programme to improve cost-efficiency. It is simplifying structures, streamlining its portfolio of interests and projects and reviewing its strategic focus to sharpen its positioning going forward. The group is also looking into further measures in response to the weak euro; any firm decisions will be announced on a case-by-case basis.
Outlook
As already communicated in conjunction with the 2014 annual results, operating earnings (EBIT) for the full 2015 year will fall below the prior year's adjusted operating earnings. Following the Swiss National Bank's decision to remove the floor on the EUR/CHF exchange rate, the euro can be expected to remain weak versus the franc. This currency situation, and the impairment charges taken at the end of the first half of 2015, will impact the annual results for 2015.
In addition to this, Repower does not expect energy prices to recover from their low levels in the short to medium term. The group will continue to build its sales and service business in an effort to reduce its dependence on low electricity prices. To this end it has initiated projects in areas such as electric transport and energy efficiency, some of which have already been implemented. Repower also intends to optimise structures in its trading business and build on its successful cooperation with large customers and energy providers. When renovating its hydropower assets in Graubünden, Repower is endeavouring to take advantage of contributions under the feed-in remuneration at cost (KEV) scheme. Last but not least, the company will continue to expand its innovation portfolio to equip itself for the energy business of the future.
Dr Eduard Rikli
Chairman of the Board of Directors
Kurt Bobst
CEO