Energy efficiency and digitalisation: an interplay of money and the environment
Saving energy saves money and the environment. The focus is shifting to renewables. But protecting the climate is more than just moving over to a renewable supply of energy; people's awareness is also an important factor. The Swiss government is leading the way with its Energy Strategy 2050, followed by people and their desire to take control of their own energy needs. They're accompanied by Repower, which is developing the right products and increasingly tapping the power of digitalisation.
Market Italy
VAMPA: for a healthy business



What is VAMPA?
VAMPA is an energy check-up for businesses done on the basis of thermal imaging that reveals differences in temperature in electrical equipment that could be the result of faults and anomalies.
Functions/services
Thermographic inspection of electrical systems

Check to ensure new equipment is installed correctly

Maintenance by certified Repower technicians


Analysis of inspection and recommendations for work to be done
Benefits
Increases workplace safety

Reduces costs of maintenance and repair


Ongoing support from experts
Who can benefit from VAMPA?
Companies with electrical systems


eFFettiva: for cost-efficient energy use



What is eFFettiva?
eFFettiva helps increase companies' energy efficiency by doing an ad-hoc energy analysis to check energy consumption and identify concrete savings potential.
Functions/services
On-site check of equipment and production processes by Repower experts

Real-time evaluation

Analysis of data gathered over a specific period


Summary of findings with comments and tips from a Repower expert
Benefits
Precision measurement equipment for very accurate results

Raises awareness in terms of adapting consumption patterns

Concrete savings potential


Ongoing support from experts
Who can benefit from eFFettiva?
Companies with electrical systems

DIODA: for environmentally-friendly LED technology



What is DIODA?
DIODA is highly efficient technology replacing conventional lighting with energy-saving LED solutions. DIODA enhances the working environment and guarantees firm savings at no additional expense.
Functions/services
On-site analysis by Repower experts

Recommendation for the appropriate LED solution


If desired, dismantling existing lighting and installing the new LED system
Benefits
Reduces energy consumption

Reduces costs of maintenance


Environmentally friendly and sustainable
Who can benefit from DIODA?
Companies with production halls, warehouses and large rooms and offices


FOCUS: for a more efficient business



What is FOCUS?
FOCUS is a full, personalised energy diagnosis tailored to customers' needs. It shows when a company is using energy and for what.
Functions/services
Checks of bills and production processes

Checks of equipment and consumption habits using the most energy

On-site inspection by Repower experts specialised in this field


Analysis and recommendation for improving efficiency
Benefits
Practical tips on boosting efficiency

Potential savings


Ongoing support from experts
Who can benefit from FOCUS?
Small and medium-sized manufacturing companies with high energy consumption
Market Switzerland
SUN@HOME: for investments in a renewable future



What is SUN@HOME?
SUN@HOME is a solution for using and storing energy from the sun that also enables customers to optimise their own energy consumption. SUN@HOME involves planning and installing turnkey solar installations with an intelligent control system.
Functions/services
Repower experts advise on, plan, install and operate system

Repower obtains necessary authorisations for subsidies and certifications

If desired, storage of solar energy not consumed


App provides data in real time
Benefits
Free and easy package: Repower experts look after everything

Potential for up to 70% own use


Concrete savings potential
Who can benefit from SUN@HOME?
Anyone, from owners of a traditional family home to operators of commercial facilities. The service is currently limited to Graubünden and adjacent areas.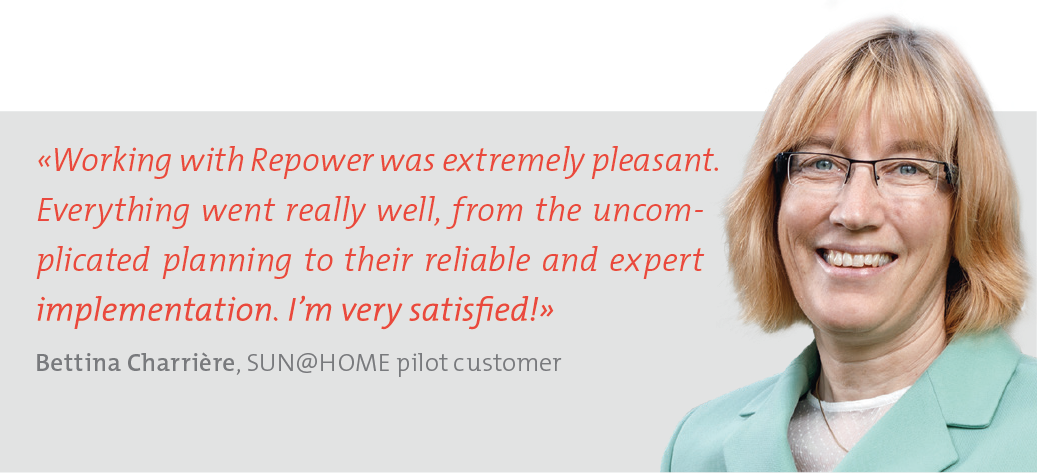 SMARTPOWER: for future-proof energy management



What is SMARTPOWER?
SMARTPOWER is an intelligent total package consisting of an output tariff, energy consumption visualisation and a control system. Capable of more than conventional smart metering systems, SMARTPOWER creates the right incentives for people to optimise their consumption habits.
Functions/services
Innovative tariff based on the electrical output used

Visualisation of consumption patterns via app

Measurement data read directly from meters


Also covers PV installations, heat pumps, batteries and electric vehicle charging sessions
Benefits
Fair tariff model for end-consumers

Enhances interaction with end-consumers, boosting loyalty and retention

Optimises peaks in output


Meets Energy Strategy 2050 requirements
Who can benefit from SMARTPOWER?


EASYASSET: for efficient management of assets



What is EASYASSET?
EASYASSET bundles all the important technical, financial and accounting data related to assets on a centralised, structured basis, making asset management considerably easier by capturing data in digital form.
Functions/services
Viewing and changing asset-related data

Running asset condition assessments

Performing inspections and maintenance


Job management
Benefits
Makes day-to-day work substantially easier

Digitalisation saves a lot of paper

Easy and intuitive to use

Online and offline access


Equipment and operating system-neutral
Who can benefit from SMARTPOWER?
Energy utilities and companies with assets and facilities that have to be monitored continuously and maintained regularly.


ENERGYSPACE: for an easy-to-manage energy portfolio



What is ENERGYSPACE?
ENERGYSPACE is a web-based platform that enables energy utilities to clearly visualise and manage their energy portfolios. It supports portfolio managers in their day-to-day work and helps utilities achieve their procurement objectives.
Functions/services
Portfolio management

Risk assessment - Market access

Managing and simulating transactions and hedging strategies


Intelligent balance group management
Benefits
Bundles market and customer information

Models and evaluates energy portfolio

Monitors risk exposure


Manages energy portfolio
Who can benefit from ENERGYSPACE?
Energy utilities and commercial and industrial customers