Overview of the year 2017
1.8

billion francs

total operating revenues in 2017
33.8
million francs
operating income (EBIT) in 2017
THE MOST IMPORTANT EVENTS OF 2017
Repower recorded a gratifying business result, with total operating revenues of 1.8 billion francs and EBIT of 33.8 million francs.

In 2017 Repower continued to position itself even more firmly as a sales and service organisation. This also involved the decision to align its internal organisation in Switzerland and its processes to more concerted service delivery.

Developments in 2017 were dominated by an upward correction in prices. Year over year, delivery prices in Switzerland increased around 21 per cent in euro terms, and the price difference between Switzerland and Italy went up several euros per megawatt hour, with a positive impact on the profitability of the portfolio.

It was possible to take advantage of major volatility on the European electricity and gas markets in speculative trading, enabling a very gratifying trading result.

Repower welcomes voters' Yes to the Swiss Federal Council's Energy Strategy 2050, and sees it as an opportunity to position itself in various areas on the basis of its core competencies. Repower is committed to hydropower as a cornerstone of the Swiss electricity supply. For this reason it is focusing its efforts on helping implement Energy Strategy 2050 by maintaining and, where possible, expanding its generation capacity.

The Morteratsch hydropower plant near Pontresina, which resumed operation back in 2016, was officially inaugurated in 2017 with an open day. For this project Repower devised an innovative financing and operating model and entered into partnership with an infrastructure fund.

Successful implementation of the growth strategy in the sales business and positive economic developments on the economic front helped ensure that developments in the Italian business remained positive. Efforts to substantially expand the offering continued with the addition of energy services, notably electric vehicle-related services.

Last year Repower in Italy provided more than 27,000 business customers with electricity and more than 11,000 small and medium-sized enterprises with gas. It delivered a total of 3.5 TWh of electricity and 319 million cubic metres of gas, a 13.9 per cent increase on the previous year.

As part of its electric vehicle (EV)-related activities Repower developed the E-LOUNGE, a charging station for electric bikes that can simultaneously be used as a bench to sit on.

Digitalisation is also sweeping the energy industry. Repower launched a number of products including EASYASSET (a software solution for asset management) and ENERGYSPACE (a professional web application for energy portfolio and risk management).

In the course of the regular refinancing of sections of its renewable generation portfolio, Repower successfully placed two green bonds (Schuldscheindarlehen), issue date 23 January 2017, totalling EUR 50 million. Repower is the first Swiss company to conduct financing in this form. On 20 March 2018, Repower received a Green Bond Pioneer Award at the Climate Bonds Initiative Annual Conference 2018 in London.

Last but not least, Repower is presenting its 2017 financial statements for the first time under the new Swiss GAAP FER financial reporting standard. After the delisting of Repower securities from the Swiss stock exchange and the introduction of the standard registered share in 2016, the company has simplified its structures further. Repower remains committed to transparent reporting presenting a true and fair view.
FINANCIAL HIGHLIGHTS
energy balance sheet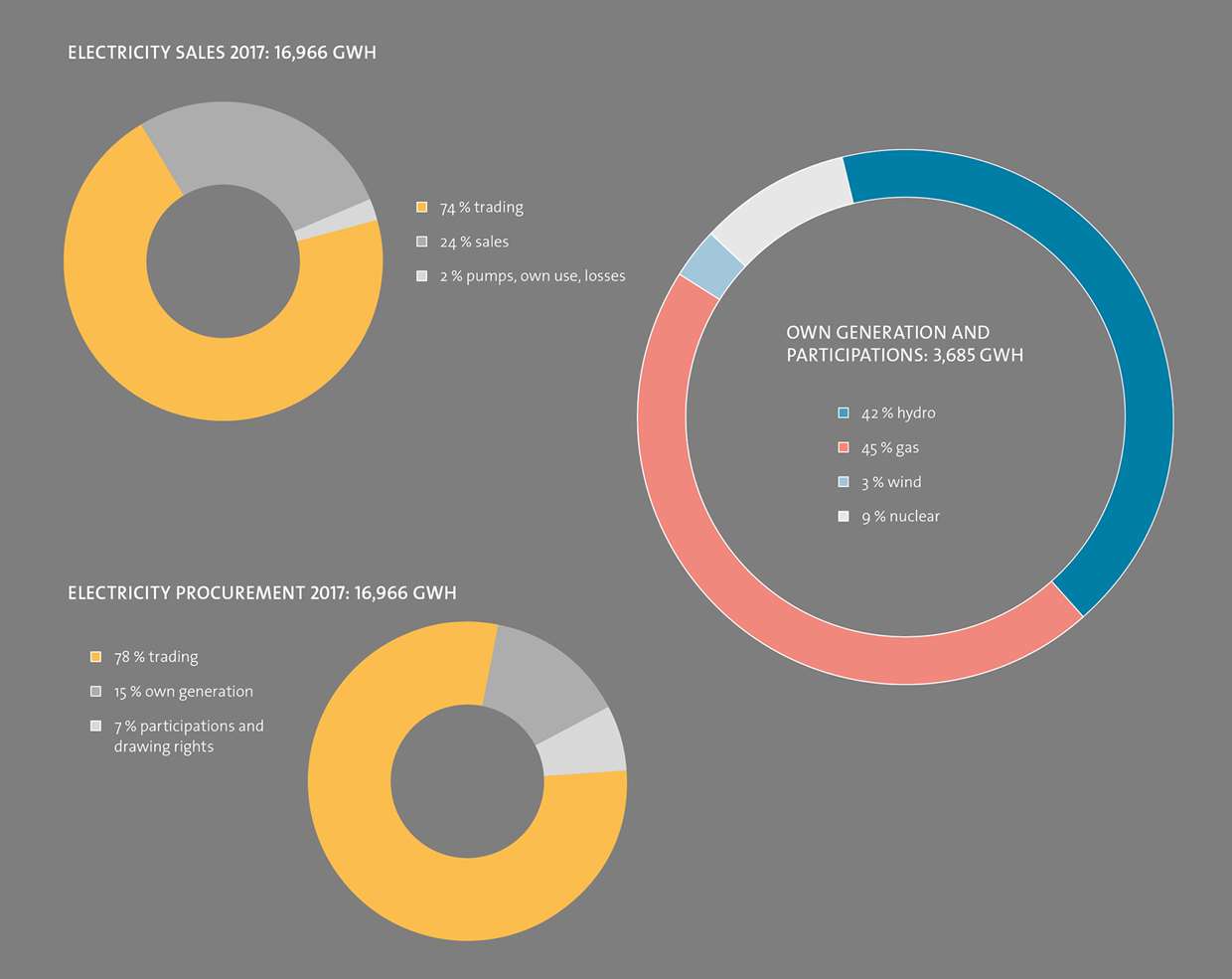 STOCK STATISTICS
Repower'S SHAREHOLDER STRUCTURE
HEADCOUNT