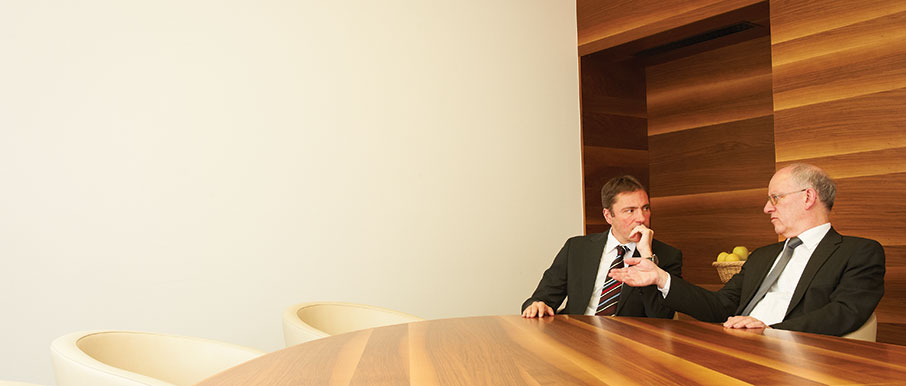 Chairman of the Board Dr Eduard Rikli (right), CEO Kurt Bobst
RESPECTABLE OPERATING RESULT – FURTHER DEVELOPMENT OF
"NEW TECH BUSINESS"
In the first half of 2014, Repower generated a respectable operating result (EBIT) of CHF 32 million (- 26 % year-on-year). At just under CHF 4 million, group profit (- 86 % year-on-year) was impacted by exchange rate losses as well as losses at associates and from interest rate swaps.
The first half of 2014 showed that Repower has proven strengths in its employees' vast expertise, innovation and ability to work together. These strengths were valuable in an adverse market environment. Within the framework of cooperation with partners, the company is working intensively on developing innovative solutions in connection with new technologies. In this way, the Group is reacting to the current challenges confronting the energy sector in the form of wholesale prices at record lows, an unpredictable energy policy trend and the resulting trying situation for hydropower.
RESPECTABLE OPERATING RESULT – ONGOING PRESSURE ON MARGINS
With revenue of CHF 1.2 billion, Repower generated a respectable operating result (EBIT) of CHF 32 million in the first half of 2014, despite margins that continued to be under pressure. Exchange rate losses as well as losses at associates and from interest rate swaps led to a fall in group profit to just under CHF 4 million. Operating cash flow of CHF 46 million was a solid increase of 51 percent year-on-year (previous year: CHF 30 million). Repower's equity base remains stable at 39 percent, and the company therefore continues to be solidly financed. Investments in tangible assets, intangible assets and associates totalled CHF 15 million (previous year: CHF 33 million).
The good contribution to results from Italy and Romania confirm the importance of these two key markets for Repower. The positive result in Italy is due in part to the use of the gas-fired combined cycle power plant in Teverola in the ancillary services market, while in Romania Repower has successfully positioned itself as a quality-conscious utility in the competitive liberalised market.
The weather in Switzerland in spring produced optimal conditions for hydropower plants: Repower's own power plants, participations and drawing rights generated a remarkable volume of some 740 gigawatt hours. Income from wind farms in Italy and Germany was below expectations.
In trading, Repower was able to profitably exploit cross-border capacities in both electricity and gas.
WITHDRAWAL FROM SALES BUSINESS IN GERMANY
Based on the outlook for the European energy markets, Repower does not expect to achieve sustained profitability as a niche provider in Germany in the near future. The company is therefore withdrawing from its sales business in Germany, which will result in the loss of around 20 jobs at its Dortmund branch office. Repower will continue to operate the Prettin and Lübbenau wind farms, and the project to construct a combined-cycle gas turbine power plant in Leverkusen will also be unaffected. In addition, Germany remains an important market for Repower's trading activities (in terms of certificates of origin, trading services, profile deliveries and standard products).