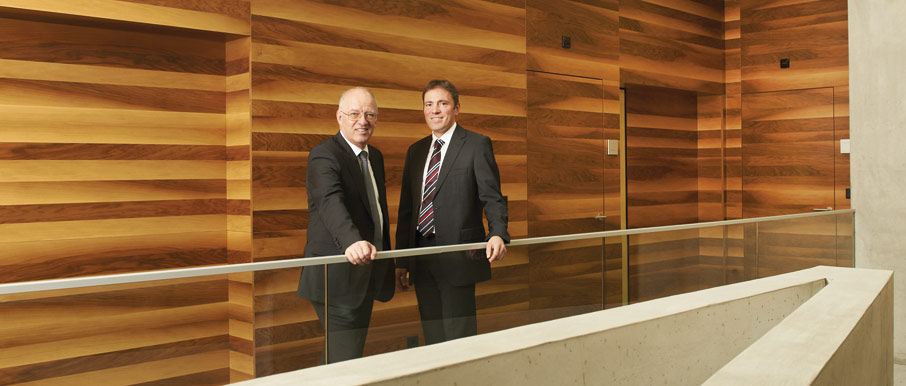 CHAIRMAN OF THE BOARD OF DIRECTORS DR EDUARD RIKLI (LEFT) AND CEO KURT BOBST:
OPERATING INCOME IN LINE WITH EXPECTATIONS – OVERALL CONDITIONS STILL UNCERTAIN
Repower had a turbulent start to the first half of 2013, when it announced measures designed to enhance efficiency in January. Various factors made this step necessary: while the continued heavy subsidising of new renewable energies led to market distortions, the persistently adverse economic situation in Europe resulted in sluggish electricity demand, which in turn led to an excess supply of electricity. The consequences have been a continued decline in prices on the markets. Against this backdrop, Repower closed the first half of 2013 with EBIT of CHF 43 million (- 17%), which is in line with expectations, and profit of CHF 29 million (+ 53%).
POLICYMAKERS CALLED TO ACT
In addition to the generally challenging economic environment, the energy industry is also being burdened by political uncertainty and regulations that are distorting the market. Policymakers, in particular, now need to take action: we must move ahead with Switzerland's 2050 Energy Strategy and the Energy Agreement with the EU to create clear overall conditions and investment security for energy companies. The goal must be to consider the entire international energy system from generation and storage through to consumption across all sectors and technologies. At the same time, there must be enough flexibility to allow market mechanisms to take hold and to open the door for innovation. The subsidies for new renewable energies that are currently causing market distortions are calling into question the cost-effectiveness of non-subsidised albeit equally sustainable renewable hydropower generation. As a result, energy prices have at times been below Repower's full costs. This price pressure is likely to continue in the medium term. Swiss large-scale hydropower is under pressure, with not only existing plants affected but also forward-looking projects. The current overall political conditions are thus paradoxically jeopardising the operation and expansion of a sustainable generation type that could otherwise play a significant role in energy reform.
During the consultation process for the federal government's 2050 Energy Strategy at the end of January, Repower seized the opportunity to express its concerns about the political structure of our energy future. To ensure that one of the energy goals at federal and cantonal level – expanding hydropower – can be met, the overall conditions for large-scale hydropower and pumped storage power plants must be clarified and improved immediately. This stipulation is also part of the "Energie-Initiative der Alpenländer" (Energy Initiative of the Alpine Countries) that was presented this spring by industry associations from Germany, Austria and Switzerland. Repower's position is that the system of the feed-in tariff needs to be replaced with a market-oriented quota model under which power suppliers are obliged to include a certain percentage of renewable energy in their generation or procurement portfolio. Repower is still of the opinion that this kind of model should be given priority over the emerging, enormous subsidy machine that threatens to expand to proven technologies, as a quota model would create the prerequisites for market-driven investment in renewables.
OPERATING INCOME MEETS EXPECTATIONS
In the first half of 2013, Repower generated revenues of CHF 1.2 billion in an environment characterised by low market prices. EBIT fell to CHF 43 million and was in line with expectations. At CHF 29 million, profit was higher than expected (+ 53 % year-on-year), which can be attributed to the positive financial result. Exchange rates developed favourably at a low level in the first half of 2013. Operating cash flow of CHF 31 million considerably exceeded the previous year's figure (CHF -3 million), while net investments totalled CHF 31 million (previous year: CHF 72 million).
There were positive signs on the Romanian market: after stabilising the previous year, Repower entered into the black in the first half of 2013. Tailored solutions helped consolidate customer relationships. Repower is one of the leading private energy companies on the Romanian market and has a reputation as a quality-conscious and innovative partner. Electricity and gas sales in Italy also made a positive contribution to results, while trading is experiencing the effects of the difficult market situation in the marketing of electricity from our own generating facilities. Trading margins overall developed as expected.
Repower's own generation of hydropower in Switzerland (321 GWh) was on a par with the previous year's level. Wind power generation (57 GWh) increased year-on-year (+ 54 %), with the pleasing increase mainly attributable to the start-up of operation of the new wind farm in Lucera, Italy (in-depth report on pages 12 and 13). Electricity generation from the gas-fired combined-cycle power plant in Teverola, on the other hand, was considerably lower than the previous year (- 31 %).